Want customers flocking to your door? Have a real bearded Santa Claus take pictures with kids of all ages!
Book Now
Add a real bearded Santa Claus to your family pictures. This is only limited by your own imagination!
Book Now
Make Christmas Eve special with a gift delivery from a real bearded Santa Claus! Santa will delivery your pre-wrapped gifts to your home, office, or charity event!
Book Now
Santa for Hire in Houston and surronding areas.
Welcome to the Santa Strong Workshop
Are you looking to add some holiday sparkle to your office party, charity event or surprise your family?
Look no further than Santa Strong!
Head Elf Phillip Andrews, has been wowing kids and spreading holiday cheer for over 30 years! 
There are no fake beards or painted rosy cheeks around here! Santa Claus is authentic with his beard, rosy cheeks, and a belly that jiggles like a bowl full of jelly!
Houston's Best Santa for Hire is Phillip Andrews!
"What kind of event can I hire Santa Phillip for?"
Company Holiday Parties
Community Events
Tree Lighting Ceremonies
Parades
Photo Shoots
Family parties
You can even have him deliver presents to your home on Christmas Eve!
Just hear what some of our clients have said:
"Santa Strong is awesome! He's a giant at nearly 6 foot 4 or maybe 6 foot 5. How size truly creates a magical aspect to him being Santa. He is larger than life and the kids love it! He might be tall but he's the most friendly Santa I've ever met. His carefree attitude is amazing. We've used him for 2 of our events now and will never use anyone but him! He really is the best! Can't wait to have him back in December!" -Ryan McDonald
"I took my granddaughter to the event at Chik Fil A. Santa made her feel comfortable enough that we got pictures of her smiling and laughing. THANK YOU for our forever memories!" - Deena White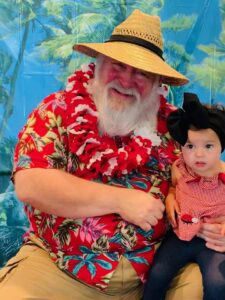 The Best Santa!! Phillip is a pleasure to work with. He communicates well and is punctual. He's also good at reading your style as a photographer and working with your clients so all you have to do is focus on shooting. He's very easy going and relates well to kids of all ages. My clients love him!!-Jeneise McNeal Candid Intuition Photography
My niece (even though she may not look it!) and nephew could not have been more excited that Santa visited them this Thanksgiving! They were amazed by Santa and talked about him for days after. What a wonderful and kind gesture. The pictures Santa took with our baby are precious and we cherish the memories forever. Thank you so much!" -Sarah Marie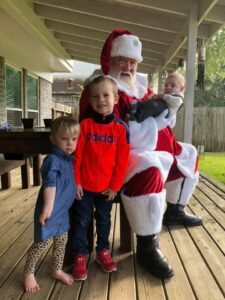 "We had Santa as out VIP at the Spa Night with Santa event at Dr. Kirk Lewis Career and Technical High School. A successful and fun event already booked for next year! Santa was great with our younger and older guests. He arrived early, looked great, and played the perfect role. Highly recommendable!" -Monserrat Ramirez-Canales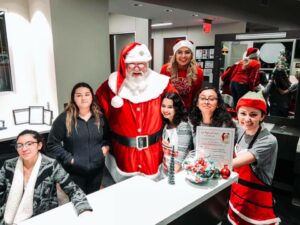 Santa's Gigs
PATH- Pearlanders Always There To Help 2018
Home for the Holidays: Holiday Gift Market Katy 2018, 2019
Home for the Holidays: Holiday Gift Market Galveston 2018, 2019
Spa Night with Santa CTHS/PISD 2018, 2019
Waco Junior League Holiday Market 2004, 2005
Brookside Intermediate Band Holiday Concert 2018, 2019
Coastal Eye Associates Holiday Party 2019
Liquidation Location Employee Holiday Party 2018, 2019
Lawhon Elementary Pearland ISD 2018
Magnolia Elementary Pearland ISD 2018, 2019
Pie in the Sky Conroe 2018
Chick-Fil-A Spencer and Burke 2019
Chick-Fil-A Nassau Bay 2019
Chick-Fil-A South Shore Blvd and 96 2019
Parkwood Elementary DPISD 2019
Lomax Middle School 2018
Pearland Small Business Holiday Market 2018, 2019
Alvin Care Pharmacy 2018
Alvin Animal Adoption Center 2019
Duke Family Light Show 2018, 2019
Alvin Senior Center Market 2019
Project Hope in Pasadena 2019
Crossroads Methodist Church 2018, 2019
Pearland Market Days Holiday Market 2018, 2019
Pearland Market Days Christmas in July 2019
Center Court Pizza Pearland 2018
Center Court Pizza Missouri City 2018
Temple High School Student Council 2002,2003
Sironia Waco 2013, 2014, 2015
Pasadena High School Student Council 1996, 1997
Pearland Lions Club Christmas Party 2018
Pasadena High School Drill Team 1996
The Wall Manvel, 2019